December 27th, 2018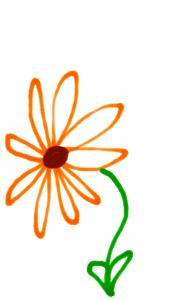 On Becoming a Digital Artist
by Shelli Fitzpatrick


I've always been an artist, but I have only recently realized that I've become a digital artist and how that happened is really quite incidental.

I never thought of myself as a starving artist, even though I was close to being starved for creative outlets due to my financial estate of barely above the poverty line while I struggled as a waitress to raise two children on my tips.

We didn't go hungry but I also didn't have money to spare for art supplies so I became very resourceful and used whatever medium was available at the moment.

I drew on napkins and school notebook paper with ink pens and pencils, until once, when I found some left over model paints at a yard sale and some clay pots, I used toothpicks for brushes and painted the pots with those enamel model paints.

Then I bought cheap acrylic paints and miniature wooden boxes and painted them. I planted cactus in the pots and glued felt in the boxes and these became Christmas gifts for family and friends.

I would also hodge-podge my drawings onto wooden plaques and give them away not realizing that I had no record of any of this art for the future or that I might need one someday, so nearly all of my early work is undocumented.

Once my kids were on their own, I acquired a laptop and began dabbling in digital art with simple paint programs which produced very primitive and naive art and saving it all to my hard drives.

Then my daughter gave me a digital camera and I discovered a love for snapping photos and especially macro photography.

I started thinking of ways to make my average but decent photos into one of a kind unique works of art and that is when I got my first iPhone.

Things started getting serious from there when I signed up for Instagram and learned about all the amazing art apps for iPhone and started participating in Instagram challenges and groups.

From there I started to develop my own digital techniques of photo manipulation, glitch art and app stacking trying to create my own personal style.
I discovered I have a passion for creating abstract art and digital impressionist paintings from my photographs.

Over the past five years I have been mastering the use of Gimp software which is an alternative to Photoshop, and now days digital is about the only medium I ever use to make art.

My latest adventure has taken me into the world of fractal art with an amazing app that allows me not only to discover beautiful fractal landscapes but to tweak and manipulate them into truly unique art that I hope will become recognized as my fractal style.

And so that is how I came to realize that I am not just an artist but I am a digital artist for better or worse... and I love this digital medium because it is so versatile and elastic and seems to have endless possibilities for creating art!